Hospital Medical Ceiling Mounted ICU Pendant
Item No.: HSF-SD90160
Pendant Applicative Area: Surgical Room/ Emergency Room/ICU/Recovery Room
INQUIRY
Description Technical Parameters Installation Diagram
1. Pendant Applicative Area: Surgical Room/ Emergency Room/ICU/Recovery Room
2. Ceiling Mounted installed.Within 340°revolved,Adjustterminal box location,convience for medical staff operation.
3. The suspension arm is imported by high-strength aluminum alloy extrusion,
surface designed by the first level oxidized rust prevention.
4. Friction brake + Pneumatic brake,adopted by German Standard Gas terminal(Insert and Pull more than 20,000 times.)
5. Provide multiple configure,make you satisfy.
6 .Electrical up and down,precise positioning.
7.ICU Bridge Type Ceiling-Mounted system, specially designed for intensive care rooms, the entire
process wards, the recovery room. Supply flexible, first-rank nursing satisfy patient's separate
treatment and nursing demand. Unique design lies in it all hides the electrical cable and pipeline in
the ceiling-mounted arm.

8.As clients' requirements,providing reasonable ICU Combination Ceiling-Mounted Pendant(Apart Dry-Wet).

9.Advanced spray technology, the intelligent combination of innovative ways to make the bridge pendant with diverse functions.
Main Technical Data

Type

HSF-SD90160 For Anesthesia

Arm

Single

Arm Length

1100mm

Column Length

1000mm

Arm Rotating Angle

340°

Maxium load capacity

160Kgs

Electrical Power

~220V, 50Hz

Braking System

Friction brake

Standard Configuration

Medical Gas Outlets for Oxygen

1

Medical Gas Outlets for Vacuum

1

Medical Gas Outlets for Medical(Compressed) Air

1

Medical Gas Outlets for AGSS

1

Medical Gas Outlets for Carbon Oxide

1

Electrical Sockets(Australia Clipsal/Schneider)

China type 3 pin 10A sockets

6

Earth studs

2

Standard accessories

Accessories

Quantity

Equipment Shelves

2

Drawer

1

IVpole or infusion pump rack

1

Stainless steel basket

1

Optional

Double Arm

Medical Equipment Shelves Quantity

1~5 pcs optional, place adjustable

Medical Gas Outlets Standards:

British, German, French, Metric, Ohmeda, DISS, Chemetron, Purit-Bennett standards optional

Electrical Sockets

can be customization as clients' request

Warranty

1 year

Delivery time

7 days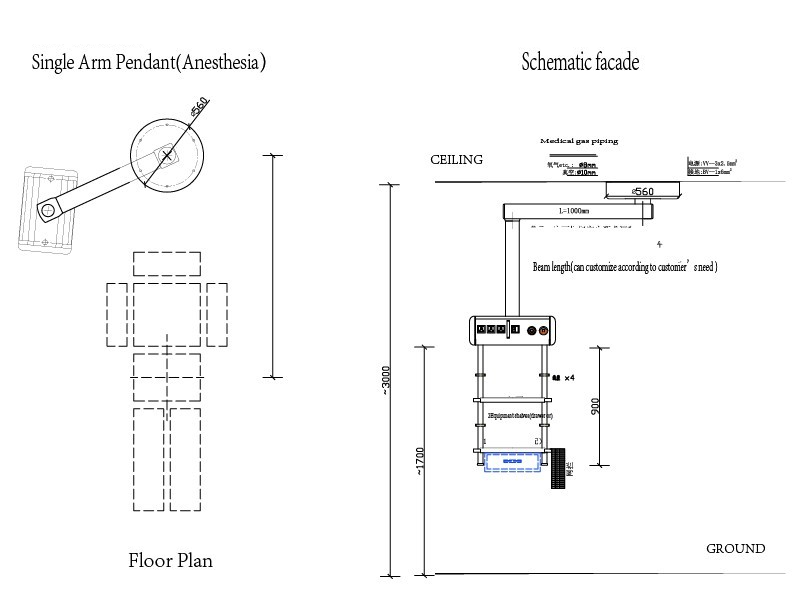 ☆Accessories

HSF-SD90160 Light Single Arm Revolving Pendant For Anesthesia

Accessories

Quantity

Shelf

2